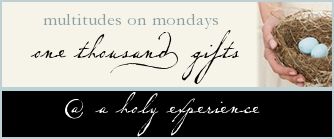 It has been a while since my last 1000 gifts post. This is not because I haven't been given many gifts, but I haven't taken the opportunity to verbalize them. But as I sat down to scribble down a few things, I couldn't write them fast enough. So many things to be thankful for, so many reminders of God's provision, and so many reasons to smile.
#554: Feeling settled in our new house…Madi too…
#555: The grass finally starting to fill in around the weeds
#556: Cousin visits
#557: Meeting new neighbors
#558: Our new kitchen table finally arriving
#559: Taking the time to give my time away
#560: Avoiding major injury after Parker fell off his bike
#561: The kids going tubing for the first time…even Fiona…
#562: Giggling kids running all over the house
#563: Late night talks about the Holy Spirit
#564: Sleepovers with old friends
#565: Fiona sleeping through the night…three times this week
#566: The familiar feeling of being back in the school building
#567: Losing my license…but the fee only being $9
#568: Having room for kids to help me in the kitchen
#569: Spontaneous pajama parties with the kiddos
Life is good, right?