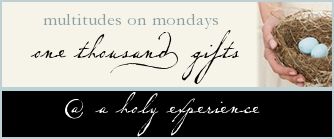 I told Ben the other day that I was so thankful that we were in our new house. This couldn't me more true. It feels good and right to be here. But the thought shot through my mind, "What if God took it all away? Would I still give thanks?" Could I agree with Paul when he says in Philippians, "I'm just as happy with little as with much, with much as with little"?
At this moment, it is easy to say "yes", but I pray that I would take that same attitude…being content in all situations. Giving thanks in hardship and blessing. Always looking for the gifts.
But for now, I'm giving thanks for:
#571: A healthy husband after two weeks of sickness
#572: Kids adjusting (successfully) to school
#573: Finding a running buddy
#574: Getting into the groove of teaching again
#575: Neighborhood playdates
#576: Giving the kids a chance to experience art on a grand scale (thanks ArtPrize!)
#577: Challenging sermons
#578: My Hello Mornings accountability group – they encourage me every day!
#579: Seeing my kids be brave enough to deliver their "neighborhood newspaper" to all the neighbors
#580: True community
#581: Listening for the transformative work of the Holy Spirit
#582: Cider and donuts
#583: Feel of warm wooden floors under my feet
#584: My cordless floor vacuum…essential for the aforementioned wood floors
#585: Kickball in the back yard
#586: Madi giving me writing assignments for her "Madi-zine"
#587: Parker making friends at school
#588: One-on-one time with Fiona
#589: Technology, so I can stay in touch with my family
#590: Grace…when I don't live my day gracefully
So much to be thankful for…