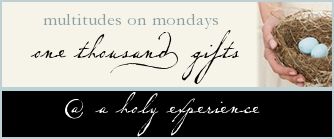 It has been a few frantic weeks since I circled back to my gift list, full of end-of-school activities and other "must-dos" on my list. But that seems backwards somehow…shouldn't the gratitude come first rather than weeks later?
Either way…here are a few recent gifts…
#503: The Love Like Him study I have been participating in…it has been really cool to study a short passage for an entire week…makes the application that much more sweet…
#504: Buying hand-painted cards at the East Grand Rapids Art Fair
#505: Finding the courage to buy a light blue leather couch for our new house
#506: Lazy dinners on the deck at Lake Bostwick Inn with friends
#507: My mom's visit…lots of hugs, shopping, and late-night chats
#508: Pop Chips…my new found snack
#509: Watching my kids play Pick-Up Sticks…the hardwood, old-fashioned kind
#510: Seeing my Dad on Father's Day
#511: Sending Ben & Parker off on a "boys only" camping weekend, complete with dune buggy rides, a driftwood search, and thunderstorms
#512: Sleeping in "of sorts" now that school is out for the summer
#513: Eating a scrumptious shrimp salad at the Pump House Grill in St. Joseph, MI…YUM!
#514: Looking forward to meeting my newest niece…any day now!
#515: Watching Parker perform in his Civic Theatre Kids Kamp production
#516: SUMMERTIME!