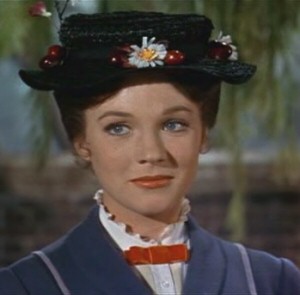 You might be thinking, why Mary Poppins and not other things? Well, I'm here to tell you about it.
There are 2 kids that make nannies(babysitters that live with them) leave. The Dad is kinda grumpy, while the mom is protesting so women can vote. The kids names are Jane and Michael. The Dad calls for a strict nanny, and there are lots of them! Suddenly, a strong wind blows them away and Mary Poppins comes out of the sky. They clean up the nursery just by snapping! They go to the park where they jump into a chalk drawing.
To know the ending, watch the movie!
Its good for kids because they would enjoy certain parts, like when they laugh and float up to the ceiling! It's good for adults because they can enjoy certain parts, like when the chimney sweeps are dancing on the roof (my Mom's favorite part) and learn how  to be a better parent.
hope you like the movie!
– madi