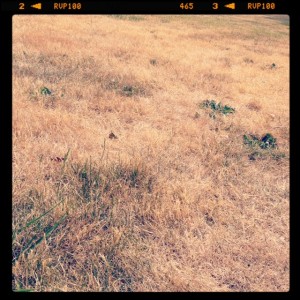 The raindrops that hit my windshield seem foreign, beating out a slender tap-tap in time to the tires hitting the potholes in the road. It has been so long since we got even a drizzle of rain that it seems almost an impossibility.
Then, as quickly as it came, it is gone, leaving swiftly evaporating drops of water on my windshield. Barely enough to wet the pavement, but just enough to make me want more…to drench the cracked brown soil and withered grass.
My soul feels like that parched ground sometimes. And I try to water it, a drip of the Word of God, a drizzle of prayer, a few stolen moments of Bible study whetting my thirst, but it only magnifies how much more I need.
I want my walk with God to be a lush, growing place, blooming with the work of the Holy Spirit in every word and action. But instead, I find myself distracted by the "everything else", and I toss a hasty cupful in the Holy Spirit's direction, hoping it is enough. In my restlessness, in my "get it done" world, I don't take enough time to sit…reflect…flood my soul with the Truth of the Gospel, the promises of Jesus, and the ministry of the Holy Spirit.
It brings to mind the words of the song…
Spirit of the living God,
Fall afresh on me.
Spirit of the living God,
Fall afresh on me.
Break me, melt me,
Mold me, fill me,
Spirit of the living God,
Fall afresh on me.
Deluge my spirit…let the work of the Holy Spirit fall on my soul like a flood…and bring new life to me once again…