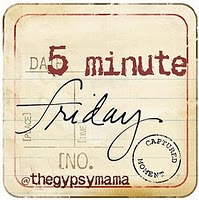 This week's 5 Minute Friday is all about "stretch"…just writing, no thinking…
GO
Last winter, I found myself in a hot yoga studio, moving and stretching and getting stronger with each sweaty session, until my shingles stopped me in my tracks. Then summer hit, and the open road called  my name, keeping me away from the hot yoga studio even longer. But last Saturday, I dragged myself out of bed and headed to Eastown with my bright yellow yoga mat and bottle of Fiji water.
I was nervous. It had been a while, and I knew by the aches and pains that I felt every morning when I creaked my way out of bed that it was going to be a tough hour. We started with Happy Baby, and I could barely grab my toes as I tried to work my knees toward my shoulders. Then as we moved into Downward Facing Dog, I tried to shift my weight to my heels fruitlessly. The long days of packing and moving, of not moving my body in anything that resembled a yoga pose, had caused my muscles to freeze, retreat, and tighten.
But the great part about yoga is that as the time passes, your body starts to wake up – to breathe – to lengthen and grow – to feel invigorated. Our last Downward Facing Dog felt so much more relaxed and free than the first one. When we reached the end of our practice, after the heavenly moments of Shavasana, or laying flat on your back in the perfect relaxing space, I stood up and felt…incredible. One good stretch is sometimes all you need.
At least until the next morning, when I couldn't move my arms. But that's another story…
STOP