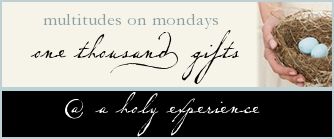 This week I have been reflecting on the past eight months that I have spent studying the book of Luke with a group of women from my church. As I flipped through the pages of my workbook, reading my scribbled notes in the margins, the list of what I learned spilled off the edge of my paper. It was a year of growth for me, learning to trust God's plan, deepening my understanding of what authentic discipleship looks like, and challenging myself to live a life that honors God.
I started the year in a different place, both physically and spiritually, but looking back, I can see God's blessings over and over. When the school year began, we were just getting serious about selling our house, they had not even started building on our new street, MomColoredGlasses was just about to get a huge dose of exposure, my Mom had not decided to go to Mayo yet, and I was running on a fuller physical tank.
Things might be a bit more…challenging right now, with physical illness, living in the "in-between" of building a house, uncertainty with my mom's health, and trying to stay a step ahead of the game, but God feels incredibly close in the midst of it. He knew that I was going to need the things that I learned in Luke to negotiate these choppy waters, and that gives me peace…even with the tingly pain running through my back.
So, the gifts that come to mind…
#424: An amazing group of women…friends…who travelled with me this year
#425: Luke, who took the time to set down a "careful account" of the life of Christ, so that we can be certain of the Truth
#426: Peter, who took his failure and turned it into the cornerstone of the Church
#427: The joy of leading, which means you learn even more
#428: Being mentored by mature Christians who challenged me to push myself
#429: Parables. Stories. The original object lessons.
#430: Seeing impossible prayers answered
#431: Experiencing community…sharing, praying, providing, laughing…
#432: Friendship that goes beyond studying the Bible together
#433: Walking in feeling entirely inadequate…and watching God work
#434: Being a disciple…a student…a child of God