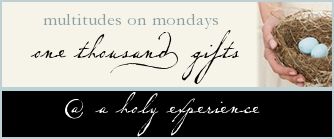 How do we find gratitude in the middle of a difficult time? Before I started counting my gifts, I probably wouldn't have even tried. But the conscious effort of carving time out of my life to find things that I am thankful for creates fragments of gratitude that bubble to the surface and force me to refocus my attention on the truth that God is good and doesn't withhold his gifts from us…from me.
I have also found tremendous strength from watching my mom over the years. She has struggled with debilitating migraines, chronic pain for as long as I can remember, and currently, she is possibly facing a difficult and painful spine surgery in the next month or so. The doctors may need to put in a drain for a cyst that is putting dangerous amounts of pressure on her spinal column. I'm terrified for her, and I know she is too, but she is responding as she always has…finding a way to live through it, and lavishing on the people around her.
As we visited her out at the Mayo Clinic this past week, I could see her love for the people around her showing up over and over. In the bellman who took the time to tell us what a great person she was…in the shopkeeper who ran out after her to hand her a slip of paper with her phone number on it if she needed anything…in the way she snuggled with my kids…in the courage she has in facing difficult days…in how she gives and gives and gives….
Gifts of…
#412: Always being willing to listen
#413: Making sure I take care of myself
#414: Teaching me how to make a great pan of lasagna
#415: Superhuman levels of generosity with her time and resources
#416: Knowing what I need before I know it
#417: Being an amazing example of how to handle adversity
#418: Teaching me how to be a strong woman
#419: Stepping out of her comfort zone to homeschool us, even when I was a cranky junior high kid
#420: Loving me unconditionally
#421: Her bottomless creativity
#422: Her enthusiasm for HGTV and Chopped…
#423: Making me feel special…always…
I could keep going…but it makes me get all teary eyed…
Love you Mom…