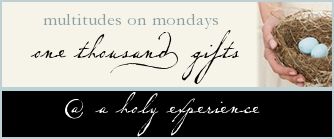 I'm finally back to adding to my gift list…and finally rounding out my focus on the kiddos with my homage to Madi, my beautiful six-year-old. It amazes me every day how the tiny baby I brought home from the hospital has somehow turned into a mini grown-up. She has her moments, but I love that she is in that sweet spot between the chaos of toddlerdom and the crankiness of the preteen world. It's a good place to be.
I'm thankful for…
#327: Her beautiful smile…
#328: When she says, "We are just the same, Mama."
#329: Her love of reading…
#330: How she loves to run and leap up onto the couch…over and over…
#331: That she doesn't even want to wear her "Girls Rule" shirt, because the boys at school might feel bad…
#332: Her deep well of compassion…always looking out for someone else…
#333: That she will stop everything to say "I love you"…
#334: Her unbelievable intelligence…
#335: The attention she pays…to everything…even when I don't want her to notice 🙂
#336: Her willingness to step up to a challenge…just recently she jumped into 3rd grade math without hardly a hesitation…
#337: When we are walking along and she slips her hand into mine…
#338: How she eats dinner without complaining…let me tell you, this is a gift…
#339: When we just talk…
I love this girl.