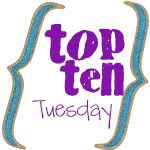 As a kid, I remember going to the library and checking out huge piles of slightly musty books that I could barely carry out the door. The moment I buckled into the car, I would flip open to the first page and start devouring them, one after another.
I would like to think that we have passed on that love of books to our kids. We go to the library frequently and load up backpacks and my indestructible Envirosax with piles of books. Madi checks out dozens of chapter books, I head immediately to check out the "new" children's books for the most recent titles, and the other two kids grab books off the low shelves and start flipping through the pages, bringing over their favorites for us to read together.
Between our library books and our ever-growing home library, we have quite the collection. So, I decided to take a "Top Ten" snapshot of some of our favorite books…right now…because it changes on a regular basis. Here's what I came up with:
1. Max's Chocolate Chicken by Rosemary Wells: For some reason, Fiona has attached herself to this Easter egg themed book. She likes telling me what Max finds instead of Easter eggs (ants, a spoon, a mud puddle) and counting Ruby's eggs (1…3…4..6…).
2. Curious George's First Day of School by H.A. Rey: Another bedtime favorite for Fiona right now, Curious George is especially charming in this book. She may be swayed by her mom a little bit, because I'm a fan too. I like reading pages like, "The children all lent a hand (and feet) to clean up the mess." and "Kersplosh! The bucket tipped, the mop dropped, and George went sliding across the floor." Gotta love that monkey.
3. Dolphins at Daybreak by Mary Pope Osborne: This is one of the books in the Magic Tree House series, which Madi is reading through with reckless abandon. And you know what? They are interesting for adults too – lots of historical facts, interesting plots, magic – can't beat that! This is one of her favs…right now.
4. Flat Stanley's Worldwide Adventures by Jeff Brown: Madi is also reading the Flat Stanley series when she can find them at the library. Her class read the first book in class and sent Flat Stanleys to a friend or family member – Madi sent one to my sister Kristin in Vermont, and she returned it with a scrapbook, maps, magnets, and other surprises. Now Madi wants to read more and more of the books!
5. Get Me to the Ark on Time by Cuyler Black: When I asked Parker what his favorite book was, he didn't even hesitate, but immediately grabbed this book. I wasn't too sure, because I had never read it to him before, but he convinced me that Madi read it to him, so it makes the list. I guess we need to put it into the "Mommy reading" rotation!
6. I Can Do it Myself by Emily Pearl Kingsley: I found this book at a garage sale, and Parker is a big fan of it because he can "read" it all by himself. It has the old school Sesame Street characters throughout – you know, back when Big Bird had a tiny head – and it has easy reading phrases like, "I can button my buttons" and "I can pour my own juice". Interesting note…I went to find the link on Amazon, and to get a new copy of this book is upwards of $700!! I guess it's a classic!
7: The Story by Zondervan: We have been reading this for our small group Bible study, and once I got past the idea that it wasn't a paraphrase…wasn't a new translation…but definitely a different way to read the Bible…I started to get into it. It paints the scriptures in much broader strokes which allows the reader to see the big picture; who God is and how He relates to His people. It's very cool.
8. The Happiest Mom by Meagan Francis: Back in March, my sister Renae and I checked out this book in Barnes & Noble and almost bought it, but I finally picked it up this week. I am already digging it – the first chapter was all about "taking the easy way out" – in Meagan's words, "Remember that because it's technically possible for us to pull off something…doesn't mean that we should." Words spoken directly to me, people. Renae and I are going to a book talk/signing with Meagan on Thursday – hooray!
9. & 10. Okay…this is where I would put Ben's favorite books, but I don't think the latest construction law literature would be very thrilling. So instead…what are the books you are in love with right now…please share!